The grand wheels have returned, with six teams vying for supremacy in the ultimate test of tractor-driving prowess, ingenuity, and daring. Representing all corners of the UK, which team will speed away with the coveted Fast and Farmer-ish trophy?
Produced by Alleycats for BBC Northern Ireland and BBC Three, with support from Northern Ireland Screen, The Fast and the Farmer-ish will premiere on BBC Three at 9pm on Sunday, 1st October, and on BBC One Northern Ireland at 7.30pm on Friday, 6th October. The entire series will be accessible on BBC iPlayer starting from Sunday, 1st October.
As part of the BBC's Across the UK initiative, which aims to decentralize content production from London, The Fast And The Farmer-ish seeks to ensure the BBC better mirrors, represents, and serves all its audiences.
The Hokeaholics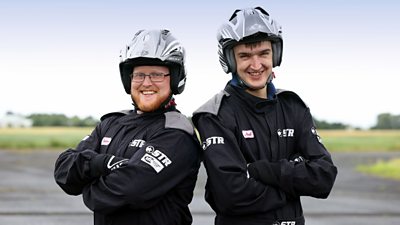 Stephen 'Red' Martin (27) and Niall Mavitty (27) from Northern Ireland
There is a saying that young farmers from Enniskillen are, quite literally, a rare breed, and best friends Stephen and Niall are no exception. They love the craic, cows and most certainly – tractors!
Stephen originally from Enniskillen now lives in Armagh and has been farming his whole life, working as a full time contractor. Niall, an Agri Mechanic, is cool and calm under pressure, while Stephen admits to being as 'thick and short tempered as they come'.
Asheep at the Wheel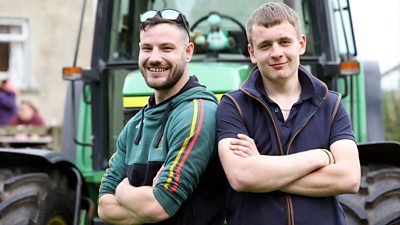 Rob McGregor (25) and Josh Painter (19) from Scotland
These fiercely competitive lads say losing isn't an option, as they would never live it down back home!
Sheep farmer Josh works on his family's farm in The Shetland Islands and says his experience of farming is a million miles away from 'posh English crop farmers down South' – who he thinks have it easy. He would love to get the win for the Scots.
Rob is from a small village on the Dumfries and Galloway border, and helps run his father's sheep farm. Rob is coming to the end of his first year studying agriculture at Oakridge Agricultural college where he met fellow 'loudmouth' sheep farmer Josh.
Nae Guts, Nae Glory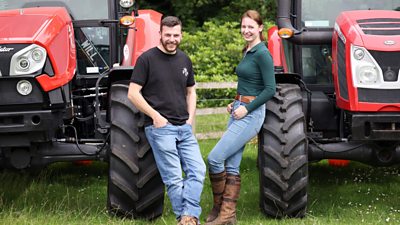 Will Dornan (34) and Becky Dornan (25) from Scotland
Becky works as a HGV driver while brother Will runs his own small farm in Lanark.
These tractor-mad siblings have farming in the blood and as youngsters had tractor toys, books and posters. As soon as they were tall enough to touch the pedals, they were out in the fields with their father. They still have the old David Brown tractor that they learnt to drive on as children – although she has definitely seen better days!
Brothers in Farms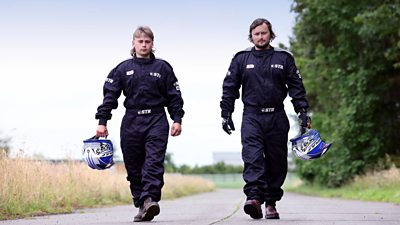 Tom Ablitt (21) and Ben Ablitt (31) from Wales
These brothers are always up for a laugh but make no mistake they want the win… especially if it means getting one over on some English farmers!
Tom loves dairy farming, but is not so keen on the sheep who also inhabit his farm. He currently sports a 'fashion mullet' that brother Ben cut for him and considers himself a bit of a trend setter.
Big brother Ben works on an organic beef farm in the Welsh countryside. Any quieter moments he has are filled working as a forestry contractor and tree surgeon. Ben thinks he should excel with accuracy and precision based challenges, whereas speed merchant brother Tom is the man for challenges that require a fast finish.
Blonde Bandits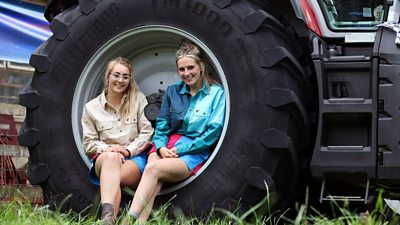 Sophie (28), Megan Ellett (22) and Sarah 'Baz' Riley (21) from England
Taking no prisoners and being no wallflowers – these women have heard it all before when it comes to 'women drivers' – and have a thousand cheeky comebacks ready and waiting for any loudmouth lads!
Sophie admits to being totally obsessed with tractors. Despite driving tractors for fun, it was only last year that Sophie started working as an agricultural contractor and regrets not becoming a professional tractor driver sooner in life.
Best friend Megan is from pure farming stock and was out in the fields with her father and Grandfather from the moment she could touch the pedals. Now working as an agricultural contractor on local farms in the area, Megan still gets the call from her Dad to come and help out on the cheap.
When the sun shines there is hay to be made and work commitments force Megan to leave the competition, she is replaced by Sarah who describes herself as noisy and fun. Sarah started farming aged 15 when she got a job rearing calves and this animal loving lady says her biggest strengths are reversing into sheds and putting the foot flat to the mat to reach that finish line!
No Smoke, No Poke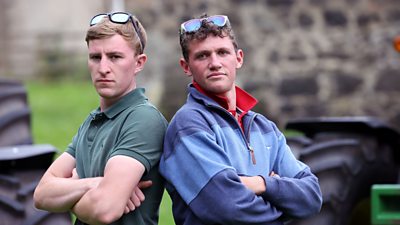 Jack Hatt (23) and Liam Birnie (21) from England
What these loveable tractor 'supergeeks' don't know about tractors, simply isn't worth knowing!
A general agricultural contractor based in Hertfordshire, if it has a motor or needs fixing – Jack is your man. He is a lifelong tractor nerd – so much so that his friends have called him Tractor Boy since school.
Jack and Liam have been friends for six years, when they met at agricultural college. Liam has family and family friends who work in farming and from his young teens knew that he wanted to be involved in agriculture. He gave up working on farms a year ago to work with the local tractor dealership and put his encyclopaedic knowledge of tractors to better use. Liam still misses being out in the fields a bit – but now gets to drive the latest and most exciting tractors – and is lucky enough to get paid to do it!