A platoon of fresh-faced infantry recruits embark on a rigorous six-month training course to determine their readiness for frontline duty in the British Army.
This five-part series chronicles the journey of these recruits as they bid farewell to friends and family, heading to the British Army's Infantry Training Centre in Catterick, North Yorkshire. Among them is a former aspiring footballer from Middlesbrough, a ex-fast-food restaurant worker, a 20-year-old with a pacifist mother, and an 18-year-old woman from a military background, eager to follow in her father's footsteps.
Women have only been eligible to join frontline infantry roles since 2018, and they must meet the same standards as their male counterparts.
The 45 recruits face demanding obstacle courses, handle and fire weapons, undergo stringent inspections, and crucially, learn the art of close-quarter combat using only a bayonet.
Under the vigilant supervision of Lieutenant Wahab, Sergeant McIntosh, and Corporal White, the recruits confront the stark reality of being a frontline soldier in a time when war is underway in Europe for the first time in a generation. Some will persevere, achieving feats they never thought possible, while others may struggle at the outset.
"Soldier" is a co-commission between BBC Factual and BBC England, produced by Label1, the creators of the critically acclaimed BBC series 'Hospital'. The initial episode will be broadcast on Thursday, 5th October at 9 pm on BBC One, followed by weekly episodes.
Kim Rossiter serves as the series producer, with Paul Wells as the series director. Executive production is led by Fran Baker, Lorraine Charker-Phillips, and Simon Dickson. BBC's commissioning editors for the series are Jack Bootle and Tony Parker.
Meet the Soldier Training Team
Captain Nadir Wahab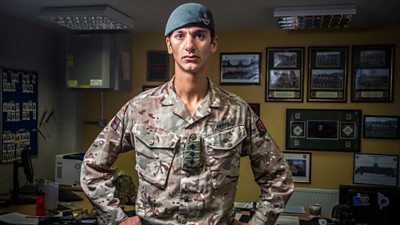 27, London
Heading up the training team and managing the recruits is Captain Nadir Wahab (promoted from Lieutenant to Captain during the series).
He started training at the Royal Military Academy Sandhurst in 2018 and was commissioned into The Rifles Regiment. Captain Wahab has been an Infantry Platoon Commander on overseas exercises, and deployed to Op CABRIT in Estonia as part of NATO's Enhanced Forward Presence on the border with Russia.
He holds a MEng in Maritime Engineering with Naval Architecture from the University of Southampton and is currently learning Arabic.
Why did you want to get involved with the series?
It's a great opportunity to show what we do here because it's such a massive thing turning civilians into soldiers. We don't always notice the personal changes in the recruits over the six months because we see them every day. But the parents always mention to us that their children have grown up so much and look like different people. So, it's nice to capture that and actually show what we do.
Viewers will gain unprecedented access to the soldiers' training, won't they?
The series provides a privileged insight into how we convert civilians into soldiers. It's quite an insular community. There are guards on the gate, and no one can just walk in here and watch on a spare day off. So, this offers a unique view of the workings of basic training. It's been going on for 400 – 500 years, and it's changed massively over that time. But there are still some aspects that are probably very similar as well.
What sort of changes do the young recruits undergo?
Pure grit, determination and confidence in themselves is what we try to instill. Humour is such a big part of military life, but they know when to be serious and when not to be serious. And when they are serious, you can see they have grown up. They hold their shoulders, and they speak with confidence. That is the biggest change that the parents see.
What other changes do you observe in the recruits?
People come here from so many different backgrounds, and some will be used to waking up at nine or ten o'clock, so waking up at five and vacuuming your room is not what they're used to at all! We see them change as they start to take on a real sense of urgency when they're doing stuff. We call it "cutting about" – which means that even when you're walking from A to B, you walk with purpose. You relax in your rest time. But when it's work time, you move with purpose, and you get things done quickly and efficiently. You do see a change there. The walking from A to B in week one and in week 27 is massively different.
What parts of basic training have evolved in recent years?
On this course actually, we gave them more access to their phones than usual because we understand the importance of their support networks and their family. The military environment is so different to what they're used to. Not only are the recruits coming here and being in a military environment, they also have less access to their phones. So, by giving them more access to their phones, their support network can be included in their journey and the recruits can rely on them. When they feel like giving up every now and then, their friends and family actually know what they've been going through because they've been communicating more. They often are the ones who tell them to stick at it.
The stereotype attached to army training is that it is all about the corporals shouting at the recruits. Do you think this series will help to overturn that image?
Yes. Probably the snapshots that people have taken previously from basic training are about shouting. When there are high-pressure scenarios, sometimes to project your voice across the battlefield, you do have to shout. So, there is some shouting in basic training. But that is always followed up by a slow, transformational chat to make sure everyone's understanding what's happening. Training has really changed over the past 20 years.
Certainly, this training team made sure that if we ever did anything in the heat of the moment, afterwards there was a transactional message that we delivered, in slow time, when people weren't cold and wet, and they could actually receive information properly. They were coached, and we made sure that they understood the lesson they were supposed to be learning.
As a trainer, is it crucial to maintain a sense of decency?
Massively. Not only does a section commander play the role of trainer, they also play the role of an older brother or sister or friend. You find yourself playing mum and dad in my role as well. There are so many different roles. If your older brother shouts at you, you're not going to listen. So sometimes you need to connect on an emotional level, on a human level. Not all the time, obviously, but it's super useful to be able to do that from time to time.
What element of the job do you find most rewarding?
In instructing in general, when you look back over the course that you've delivered and you see the larger change in the recruits, that's probably the most satisfying aspect. As we see in this series, many people struggle with certain aspects of the training, but the answer isn't that they give up. They keep trying, and with good coaching and often help from their friends and their fellow recruits, they get through it. That's actually why people become trainers. Seeing that improvement is one of the benefits.
What do you think you've learned in your years of service that you are especially eager to impart to the recruits?
I've learned that the most pertinent thing to basic training is that you often see people around you who you might think are the finished articles, but everyone keeps learning. Often soldiers feel uncomfortable taking a step up in responsibility, but that's what people have done for thousands of years. It's almost like I tell them to play the character of a trained soldier, and that's what they slowly become. It feels unnatural at first because it's not what they'd ordinarily do, but they soon find it within themselves to play the character of the second in command or the point riflemen. It may feel like an unnatural jump, but with a bit of confidence in the reality that everyone's still learning and no one's the finished article, they do progress. They're willing to go and fail because failing often teaches us the biggest lessons.
What are the most important qualities that you're looking for in new recruits?
The first is definitely motivation – they need to want to be here. Because they will go through tough times, and if they don't want to be here, then there's very little chance that they'll finish. The second one would definitely be a sense of humour. Because a sense of humour allows the recruits to bond quickly with the people around them. They're trapped in a new environment with a bunch of people who are also in the same circumstances. When they arrive, they'll probably find themselves very early the next morning ironing some clothes for the first time and looking up and laughing at everyone else doing the same thing in this ridiculous scenario, and that helps them to bond better. When things do go wrong in the army, that's important. The British Army sense of humour is what the rest of the world knows us for. Our chins are held high, and we laugh in the face of adversity.
Colour Sergeant Barry McIntosh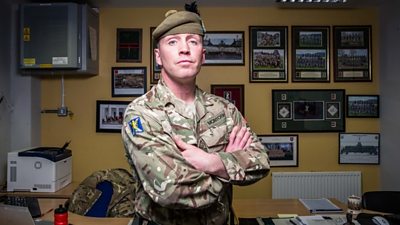 Edinburgh
Barry McIntosh enlisted into the Royal Scots in 2001 and completed basic training at Army Training Regiment Bassingbourn before attending the Combat Infantry Course at the Infantry Training Centre Catterick. Colour Sergeant McIntosh has seen action in every major operational theatre that the British army has been involved with since 2003.
He has served as Vallon operator in Helmand province where he led the way for other soldiers to follow through an IED heavy environment. He has been involved with partnered operations with the Iraqi Army, Afghan national army and police, Republic of Sierra Leone armed forces and the Nigerian army.
Corporal Philip White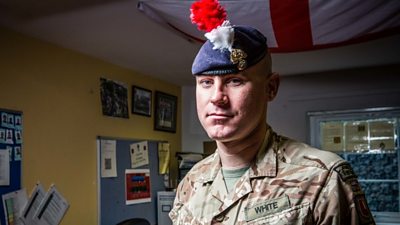 34, Northumberland
Philip White is from Morpeth, Northumberland.
He joined the army in 2013, joining 1st Battalion The Royal Regiment of Fusiliers, before transferring to 2nd Battalion The Royal Anglian Regiment in 2022.
What traits are you searching for in a recruit?
Teamwork. You definitely need to be able to work in a team in the army – otherwise, it just doesn't work. You're always going to be working as a team when you go on to your career. Some of the people who fail here are unable to work as a team, perhaps because they're too selfish or too individualistic. That might stop them being good team players.
What have you learned from being an instructor?
Of all the things I've done in the army, I would say being at ITC has probably developed me the most. It's definitely improved my confidence a lot. It's also been great getting down to the nitty gritty, and just doing the basics all the time with the recruits. You teach them the tactical stuff so many times here. When you get to battalion, you don't do it so much, so you can get that skill fade. Whereas here, you're doing it all the time because you're constantly teaching it, and the best way to keep up to date with something is to teach it.
Is it satisfying when you turn someone who is really not that competent to begin with into a good soldier?
Yes. You don't really think about it while you're training them. But once the training starts to slow down and you're getting ready for their pass-out parade, that's when you start to think about when they came through the door, when you first laid eyes on them. As they came through the gate, you thought, "What have we got here? How are we going to do this?" And then seeing that come out the other end, having passed every test that they needed to and going onto their careers – yes, that's definitely satisfying.
Do you ever feel let down by the recruits?
Yes. This job can be really rewarding. But it can be quite disappointing as well if they decide they're going to get out. You've got a recruit you know is going to be really good. You can see all the potential, and then they just hand in a letter to get out of the army or decide they don't want to be there anymore. So that's disappointing.
Were there any of those disappointments in this series?
Yes, there was a particular one that was filmed. I was in a meeting saying, "This guy is going to be the top recruit on this course." And then he didn't come back. He went AWOL. He didn't come back to let us know why he'd left, but you got the impression he thought the grass was greener – which was a great shame.
Which recruits that are in the programme stood out for you?
South. He came into my section halfway through the programme. The whole time I was trying to get a bit more out of him and trying to get him to become a bit more assertive. It took a while to get it out of him, but he got much better towards the end and pulled it out of the bag.
What made you want to sign up for the army in the first place?
When I was younger, I did quite a bit of travelling. I lived in France and Australia. But I needed a bit of stability and a bit of structure in my life. I just wanted to get out there and do something. That was ten years ago. Obviously, there was quite a lot of conflict going on at the time, and there were videos online and it was all over the news. It was exciting, and I wanted to be part of it.
Where have you been since you joined the Army?
I've spent a lot of time in Canada. I've been there about seven times. I spent a year there doing training. I've also been to the Falklands, Estonia, France, Crete. Quite a lot of places. It definitely helps broaden your mind generally just seeing different cultures and working with other nations.
What do you hope audiences will take away from watching Soldier?
I would like people to realise the hard work that goes into training recruits. Hopefully, the programme will also stamp out any myths about ITC. It will let the public see the hard work and the effort that goes into training them because it's a long six months and every day is a long day. You can be in from half five in the morning, sometimes till nine or ten o'clock at night.
What are the key qualities an instructor requires?
To bring the best out of a recruit, I think you definitely need to have patience, which sometimes I lack! You also have to remain professional and make sure you don't overstep the mark. You also need leadership and the understanding that some recruits might take longer than others to learn things. Some of them haven't learned things to the same standards other people have in their lives before they get here. On any given day day, you might have to teach someone how to tie a shoelace, and the next, you might be teaching someone how to shave!
Corporal Bell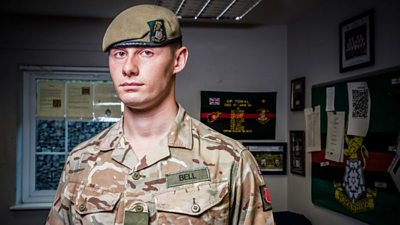 25, Leeds
Adam Bell is from Leeds, West Yorkshire. He began his army career in 2014 at the Army Foundation College Harrogate, on completion of his training he joined 2nd Battalion The Yorkshire Regiment.
Cpl Bell has been an Infantry section commander on Op TORAL as part of the Kabul security force, providing force protection in Kabul, Afghanistan. He has deployed on various exercises both in the UK and overseas.
Do you think Soldier is a good way of showing what you do as an army trainer?
Yes. I think most people don't really have that much insight into the military. Putting our work out there in this programme reveals what we do behind the gates. This series displays what the army is all about, by letting the cameras in, opening up and showing everything that we've been doing for the last six months.
Do you think the series could help overturn some myths about the army?
Yes. Some people might think that the army is quite a daunting experience and very hard to get into. But as you can see, throughout this whole programme, there are no secrets behind it. If people are wise to it, it's quite an achievable process. If you have the right mindset, you can accomplish an awful lot. The way the training has been portrayed in the programme shows that it is a fair and open process.
What are the main qualities that you're hoping to see in recruits?
Integrity is a big one for me. If you get a recruit who's lying to you, that's a big no-no for me. Discipline is very important as well. If you get a recruit who is quite ill-disciplined and can't really change that, it can be quite hard for us to train them. Loyalty is vital too because teamwork is crucial when you're in the army. The army is just like one big team really. If a recruit can't work within a team, it's pretty frustrating for everybody.
How do you get the best out of the recruits?
Each recruit is pushed by their instructor to achieve their best, we wish to see them succeed and so does the recruit themself, although at the time they may feel differently! We're not trying to break them or get them out of the army. We're pushing and training them to be the best they can be.
What are the chief characteristics you need to be a good instructor?
Leadership is probably the main one because obviously, if you can't lead the people below you, then you're pretty knackered straight away. Patience is a big one, too. A lot of us do have to show quite a bit of restraint and patience with them because it can sometimes be quite testing, especially when you have recruits who have been living off no sleep for a couple of days. That can be quite hard.
Have things changed now that you have female recruits?
Yes. It is still quite a male-dominated environment, but things are slowly getting better as more women realise it is massively achievable for them. I think once this programme comes out, everyone will say that it is quite feasible for women to pass the course and more of them will join then. The female influence is positive, and from what I've seen women can perform exactly the same as men, if not better!
Why did you want to be a soldier?
I wanted a different lifestyle. Some of my mates just sat at home the whole time. They only left the town once a year to go on holiday. I wanted to get away from that. So the army represented that for me really. It gave me the chance to get away and explore different countries.
You saw active service in Afghanistan. What did you learn from that tour?
Quite a bit. Luckily for me, I was one of three people beforehand who got to do a language course in Dari, which is the native tongue in Afghanistan. So I spent three months learning the language before I went out. I was just constantly practicing speaking to different Afghans over there. It was a really interesting experience just to pick up a new language and then use it over there. It's an amazing country.
Is there one recruit in particular who impressed you with their commitment?
Stretton. In the first few months he was quite testing. But towards the end, he completely turned it around. You could massively tell that he was a completely different person to what he was when he started training. That is obviously what we all like to see.
Does watching a recruit mature in that way give you a sense of satisfaction?
Absolutely. When you see someone come out of those six months a lot better than when they started, it gives you a great sense of achievement. It's a really rewarding process.
Corporal Christopher Dean
31, Falkirk
Christopher Dean, from Falkirk in Scotland, started training at the Infantry Training Centre in 2009, on completion of training he joined 5th Battalion The Royal Regiment of Scotland in 2010. He attended countless overseas exercises from Kenya to the Falklands, Kuwait and around the UK. The highlight of his career was Op HERRICK 13 (2010) in Afghanistan where he was point man. He enjoys playing football and rugby.
What impression of the army will viewers have after watching this series?
It will show the army in a new light. People will be more open-minded. They will look at the army as a positive rather than the sort of negatives we hear in the news. They will see that this 6-month course helps turn these young people into adults.
Will it also demonstrate that the basic army training is not all about shouting at the recruits?
Definitely. Everyone used to watch those old war films where it would just be shouting constantly, but that's not that case at all. You hear it all the time – people say, "I couldn't be doing with that shouting in my face all the time." But the reality is not how they perceive it. I hope our series might help change a lot of people's minds and show them the truth of what happens during basic training.
Which training exercise do you think is the most important for the recruits?
The patrols and urban exercise are the most important. That helps them to become more aware of what it entails to be a soldier. The exercises are designed very specifically to demonstrate what it takes to be in the army.
The live firing exercise looks quite demanding. How did you find it teaching that? A: It's very well managed. The recruits learn all the basic drills in the classroom before they go anywhere. And so everything you do has already been taught to a high standard. We just help them put it into practice. The nerves are there when it comes to firing a rifle for the first time. Even if you haven't fired the rifle yourself for a year or two and then you go back to fire that rifle again, it still makes you blink the first time. So it's a matter of getting the body used to the weapon itself and just cracking on. It's a dangerous game. But we do it to a very high standard, and it works well.
Many youngsters these days seem to spend a lot of time on their computers and games consoles. Does that make it hard for them to reach the required physical standard?
No. When they come here, they know they're going to have to perform physical training. So, they've already got that in the mindset. It's just what the fitness stages are. But ITC is a progression game. So, no matter what sort of fitness they come here with, they start at a basic standard and get fitter as they go along.
What sort of rewarding military experiences will the recruits who pass out have to look forward to?
What I've really enjoyed is travelling to different places and meeting different people and experiencing different cultures. You also make friends for life. No matter what sort of course you're going through in the army, you always meet someone that you can get on with and you'll probably stay in touch with. There are people who I have probably not seen in a long time, but if we were to bump into each other we would be able to talk for hours. There's a natural camaraderie in the army. You always pick up where you left off.
What do you think you've gained over your years in the Army?
You can be deployed anytime, anywhere. Exercises come up, and you've just got to be flexible. Everything life chucks at you is a different experience. It's about how you take that experience in your stride.
Captain Bobby Gardner
55, Bangor
Captain Bobby Gardner joined the 1st Battalion the Worcestershire & Sherwood Foresters in 1995 in Tidworth, he has attended and passed all the mandatory Infantry promotional courses up to the rank of Warrant Officer.
During Captain Gardner's career he has completed several operational deployments including tours in Northern Ireland, Bosnia and Afghanistan.
Meet the Soldier Recruits
Private Callum Stretton
17, Leeds
Callum loved playing video games and started out studying plumbing, but found it wasn't for him. Before he joined the army, he worked at McDonalds.
Tell us a bit about life before you joined the British Army, what were you doing?
Before training I was at college studying plumbing. Then over the summer, I took a part time job at McDonald's. I was on summer leave from college and realised that I didn't like the nine to five lifestyle. So I thought I'd sign up and give this a go. It was a pretty big shock when I joined, but I don't regret it. It's a good career choice.
Why did you want to join the army
I didn't want to do the same thing every day. Don't get me wrong, I enjoy plumbing but it was just repetitive. You'd go to a place and lay a pipe or fix a toilet.
Would you say training was what you expected?
Training was a big shock. You had all these different people from different age groups and backgrounds all starting off at the same level. It's quite a different environment to what you're used to. You don't usually go into jobs where everyone is at the exact same level. Usually there are people that have been in the job longer so it was quite different to what I expected. It was a fresh start. There was no one really that judged you because you're all starting off as the same rank.
It's quite rare for a soldier to have their experience documented, how does that feel?
It was good in the sense that not everyone gets the opportunity to look back on training, there was definitely some stuff I would have forgotten about if it wasn't documented, like some of the little interactions with the platoon staff or some of the other recruits that I got along with quite well and became close friends with.
You do sort of think, why would I want to watch the documentary back when I lived it, but there are those little moments that you forget about, like my experience firing the rifle for the first time or my first time on the obstacle course. It's quite nice to be able to look back on that.
Could you describe the transformation you undergo in the documentary?
Obviously, for everyone, it's different. I feel like I personally matured a little and stopped rushing things. I have learnt to step back and evaluate things a lot more before I take action. For me, being quite young it's like you go through school and you're told where to go, what to wear and what to do and stuff. Whereas here you are expected to think for yourself and take initiative on things like taking cover, deciding where to place yourself in an attack or that it might be easier to fire from beneath.
What did your family make of the journey you went through?
I think my mum is still nervous about it all, but that's just her not wanting me to do anything dangerous. I think she sees it as a lot more dangerous than it actually is. My sister thinks what I'm doing is quite cool. I think it's nice for her to have her older brother doing something a little more exciting than an office job.
Do you think they saw a massive transformation as well?
I think my mum did but, for me, it's like, I didn't really notice something because I was the one going through it. Whereas I'd been away for so many weeks that when I'd go home, my mum would see a bigger difference. My younger sister is quite small, so I don't think she noticed that much.
What were some of the greatest challenges you faced in the training?
Taking the initiative was something that I found quite challenging, especially being younger. You realise actually I should be doing this, this and this, and set priorities. Someone else that's a bit older will have a different sort of challenges, but for me, it was just kind of looking after myself and making sure I'm doing the right thing at the right time.
Is there anything that still sticks in your mind as something that was quite tough for you?
I'm not one for telling people what to do, because I don't want to be taken the wrong way. So when I was second in command in Section Attack and had to get out there and tell people what to do, it was all quite unusual for me. Taking authority and being in command wasn't really a situation I'd been used to.
What were your favourite moments?
I think one of my favourites was the defence exercise. That's usually an unusual one, but for me it was an opportunity for my section to come together. We'd change sections and I didn't really know any of the other lads too well, so it was quite an interesting experience. I got to know them better and sleep deprivation is very funny, especially watching everyone try and stay awake.
There are some very funny moments in the documentary. You cook pizza on an iron, are there any other funny moments you can tell us about?
Yes, I cooked a pizza on an iron but that's just me as a person not liking my pizza cold. With not being allowed microwaves in the rooms, we had to get a bit creative.
One thing that was quite funny was some of the phrases said by quite a few of the lads. I'm not entirely sure if they've been caught on camera but Sergeant McIntosh said some very funny things and I'm quite looking forward to reliving some of his catchphrases.
In terms of the recruits or the trainers, who did you bond with the most?
Private Roberts, he was in my bed space for the first 12 weeks, he was always there to give some advice and show me how to do things. It was quite nice to have a friend to chat to in the evening.
The documentary shows females training to be front line soldiers, what was it like having female recruits in the platoon?
It's quite an interesting thing as it's not something that happens as often. There's not too many women in the infantry. There's a lot of mixed opinions but It goes to show that anyone can do it, regardless of gender or anything like that. Anyone can join the infantry as long as they work hard.
Are there any misconceptions about training in the army or things that you think people will be surprised to see?
That not everyone's going to finish. You can go in being one of the strongest or the smartest but that doesn't mean that you're gonna finish through training. There were a couple of people that were quite ill, but applied their mindset to get through it.
Are there other things that you would really like viewers to take away from the show when they watch it?
If you want to join the army, go for it. It's worth a go. Whether you finish training or not, you'll go away with something.
Private Owen South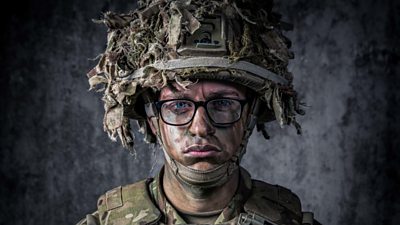 18, West Sussex
Owen lives with his mum and brothers in West Sussex. He used to work in a warehouse supplying lighting equipment for stage shows.
Tell us a bit about life before you joined the British Army, what were you doing?
Before I joined the army, I worked in a warehouse supplying lighting equipment for stage shows and just had enough of my career.
Why did you want to join the army? Is it what you expected?
I've always wanted to since I was quite young, it's the idea of having a career and I found school boring and wanted something a bit more exciting. I'd say some of the aspects of the training weren't as I expected and it was a bit more difficult and enduring than I thought it would be.
What would you say were some of the greatest challenges in the training?
Definitely the patrols exercise! On this exercise, you've been out for so long and they just keep asking you to keep going and all you want to do is go to sleep. You get in your sleeping bag for five or ten minutes and then you're up again. There are other moments that were tough like on exercise when you're sat alone and it's two in the morning and you'll like 'what am I doing here?', but it's fine as long as you keep pushing through, it's all worth it.
Would you say that you underwent a big transformation in the documentary?
Yes, definitely you can see the change in myself from when we started to how it finished and then even further now I can see how I've grown and progressed as a person.
What do your family make of the journey that you went through?
They've said that I seem a lot more confident in myself than I was before and that I am definitely more outspoken with what I'm willing to say, what I think about stuff and if something bothers me, I say it.
What did they make of you joining the army?
It was definitely not something they expected from me or not something they would want for themselves, but they were supportive. They see the army as a stereotypical macho-aggressive type of thing, which isn't very realistic.
Are there any funny moments that we can look forward to in the series?
I think there's a moment of Stretton using an iron to cook a pizza, that's quite funny. On Instagram there's these accounts that make fun of stuff in the army and that clip is going to be on there within 30 seconds after airing.
The documentary shows females training to be front line soldiers, what was it like having female recruits in the platoon?
As long as the standard is there, it doesn't matter. I think people dwell on that (gender) too much and as long as we're not lowering the quality of recruits passing out then it doesn't matter, anyone can apply.
Is there anything that you hope TV audiences might take away from watching the show?
The main takeaway is the difference between people at the start to the end, like the change in persona and confidence.
Are there any misconceptions about training for the army or things that you think people will be surprised to see?
This series will break the stereotype of people thinking only big guys join the army. It's definitely a false stereotype.
Private Olivia Hall-Beakhouse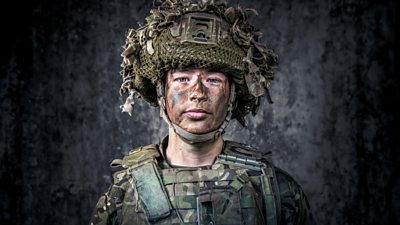 18, Plymouth
Whilst studying for her A-levels, Olivia decided that she wanted a challenge and pursued a career in the forces, choosing the infantry over the RAF.
Private Hope Mainwaring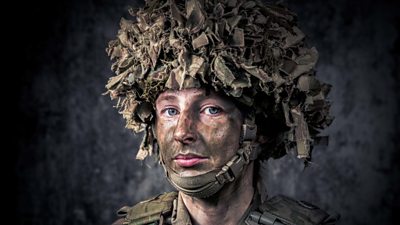 21, Warwickshire
Hope comes from a military background and studied a sports degree at university, but quit when she felt she didn't fit in, leading her to decide to join the army.
Private Ethan Sherwood
18, Hull
Before joining the army Ethan worked in a local fish and chip shop and lived with his mum and sister. He joined the army to meet new people.
Private Jamie Worley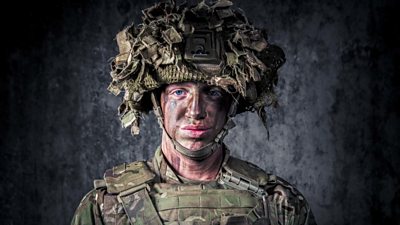 18, St Helens
Hailing from a family working in the construction trade, Jamie wants to be successful in his own right and thinks "nothing normal seems good enough."
Private Curtis Dryden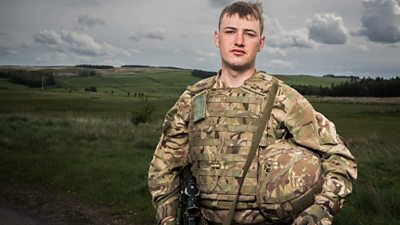 20, Middlesbrough
Curtis is a former aspiring footballer who was on the books for Middlesbrough, Aston Villa and Dundee before his career came to an end. He joined the army to travel and make a life for himself.
Private Jerry Okyere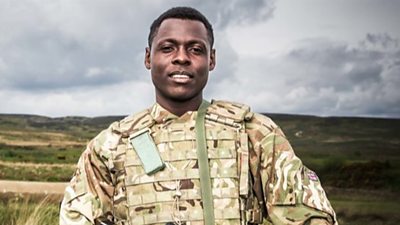 29, Ghana
Jerry is an engineering graduate from Ghana where he lived with his large extended family. Jerry is the oldest recruit in the platoon and wanted to join the British Army because of the wealth of opportunity it offers.
Private Josh Harte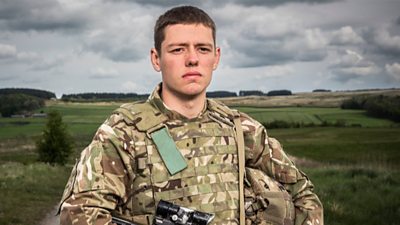 21, Smethwick
Josh wanted to join the army at 16, but his mum wouldn't sign the forms. He studied engineering at college but didn't enjoy it.